Rivers in the Black River Watershed
The Black River receives input from a number of sources within Cockpit Country, notably Maggotty River, One-Eye River ("Noisy River") and a set of deep pools located near Aberdeen.
On the west boundary of the Black River Watershed is Niagara River which flows into Maiden Valley River to sink at Cooks Bottom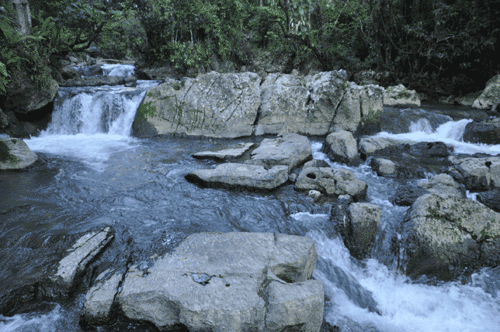 The Nassau Valley Risings consist of sinks Raheen Sinks 1 to 3 and Appleton Sinkhole and the risings: Raheen, Elim East, Elim West and Bogue Spring.
Water from Raheen-1 resurges briefly at Raheen Rising, sinks at Raheen-2 and then rises again at Bogue Spring eventually to reach the Black River via Grosmond River.
Raheen-3 has been traced to Elim East Rising, which it should be noted , is strongly contaminated with dunder , since traced to its source at Appleton Sink.
Ponds are found in Nassau Valley: the low permeability of the clay and silts which mantle the floors of the basins in the transition zone cause the retention of a large amount of the rainfall which falls on the clay to be retained in the clay itself or in the form of small superficial ponds. In this way a secondary "perched" watertable may be formed above the underlying White Limestone. This perched watertable does not seem to bear any relationship to the water table level in the limestone below.