Welcome to Cockpit Country!
Windsor Research Centre (WRC) created this website to share information about a globally unique landscape located in the heart of Jamaica. We hope your enjoy your virtual tour of what, in reality, is a rugged and inaccessible part of the island. It is these very characteristics which define Cockpit Country and give it such special importance to Jamaica and the World:

Geological Heritage: It is the type locality for cockpit karst, a special landscape where abiotic conditions, such as soils, slopes, temperature, humidity and rainfall, have shaped how wildlife and humans adapted to survive.

Biological Heritage: It is an island-within-an-island of specially-adapted biodiversity found nowhere else in the world and is a last refuge for some species driven from the rest of Jamaica by humans.

Cultural Heritage: It is a historic site where a population of Maroons was able to force the British into signing a peace treaty in 1738.

Living Heritage: What legacy are we leaving for future generations?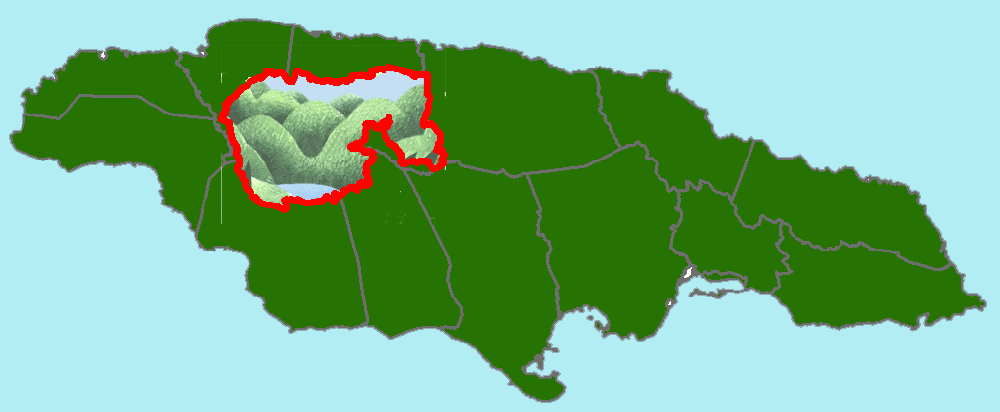 The Boundary of Cockpit Country is still being discussed, but in this website, we use the Cockpit Country boundary defined by Cockpit Country Stakeholders Group, of which we are part.
The boundary (click here for shapefile) is defined by (a) the extent of cockpit karst and (b) the area where the Maroons and British fought the First and Second Maroon Wars.
Cockpit Country is the source of six major rivers and is a critical water resource for the whole of western Jamaica
We created this website as part of our Mission to archive everything that is known about Cockpit Country and to share this information far-and-wide. As much as possible, we use low-resolution images so that everyone with a slow internet connection (i.e., all of us living around Cockpit Country!) can still easily access the information.
This is a LIVING website: please email us if you know of published information we've missed. Equally important, we want to archive anecdotal stories, old diaries, and YOUR memories.
We're in the midst of renovating the website -- like Windsor House, we don't expect the task to ever be finished! If you find yourself on a "Royal Georgian Yellow" page, with our old pull-down menus, just hit the "back arrow" to return to Cockpit Country is Our Home.
For current news, visit WRC's FaceBook page.
---
| | |
| --- | --- |
| | Website maintained thanks to an educational license from Fetch Softworks - your best friend for file transfer |