ACCOMPONG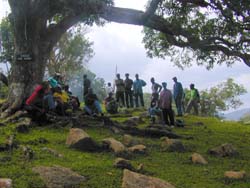 Accompong is the only Maroon village which has retained its original name and was founded in 1739, just after the First Maroon War. The photo on the right shows a group of Maroons including Colonel Peddie under the "Kindah Tree" (loosely translated as "family tree").
Accommodation in the Maroon community at Accompong is available at Mystic Pass Villas.
Accompong was Cudjoe's brother and the name is said to derive from the Ashanti Nyamekopon meaning "the lone one, the warrior".
We value your feedback and comments: