In 2007, Windsor Research Centre prepared a calendar highlighting native tree species which may be useful in restoring natural forest ecosystems. We developed the calendar from research we conducted in a pasture which had been planted with alien grass in the 1970s: this grass had stubbornly prevented all processes of natural forest regeneration. We experimented with several trees species, to identify those which could out-grow the grass and attract seed-dispersing birds and bats, thus re-establishing natural successional dynamics and letting Nature take over the work.
We have updated the calendar for 2015 and present it here electronically.
The original calendar was prepared and printed with the support of the United Nations Food and Agriculture Organization (UN-FAO) and the National Forest Programme Facility. Pear Tree Press (Kingston) gave us enormous support with the original print run.
We'd also like to thank the many partners who supported the project, particularly the community of Duanvale (Trelawny), Fairchild Tropical Botanic Gardens (USA), BirdLife International (UK), and especially Jamaica's Forestry Department , which allowed us to use photographs from the Manual of Dendrology: Jamaica and whose officers provided technical expertise in workshops and in the field.
Each file is about 270-280 kb. If you would like a higher resolution, please email us.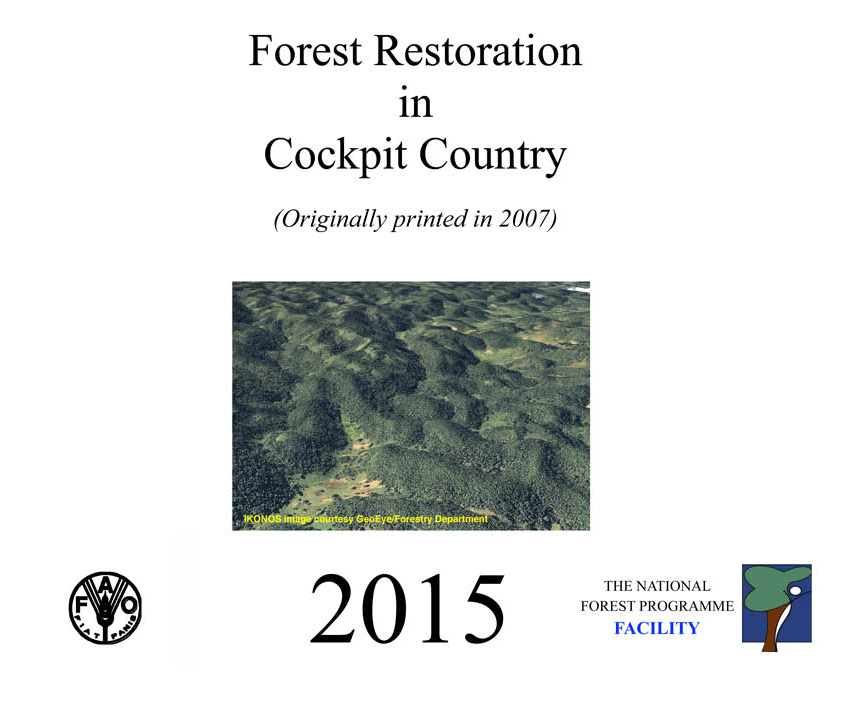 Have a great year!
2015 Forest Restoration in Cockpit Country
January
Introduction to Cockpit Country
February
Fiddlewood (Citharexylum caudatum)
March
Bitter Damsel (Simarouba glauca)
April
Black Lancewood (Oxandra lanceolata)
May
Blue Mahoe (Hibiscus elatus)
June
Bas' Cedar (Guazuma ulmifolia)
July
Spanish Elm (Cordia gerascanthus)
August
Clammy Cherry (Cordia collococca)
September
Trumpet (Cecropia peltata)
October
Santa Maria (Calophyllum calaba)
November
Breadnut (Brosimum alicastrum)
December
Wormwood (Andira inermis)
Flower Quiz: Can you name the tree?
(Roll your mouse over the picture if you feel stymied)