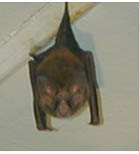 Big-eared Bat
Macrotus waterhousii

BATS OF JAMAICA
Ratbat, 'im always leave deh ripe naseberry
a fi mi.'im no trouble you.
Jamaica is home to a rich diversity of bats. Although known locally as 'Ratbats,' bats actually are more closely related to primates than they are to rodents. Their scientific classification, Chiroptera, comes from the Greek roots cheir (hand) and pteron (wing). As the name implies, the wing of a bat is a highly modified hand, with elongated fingers and forearm over which a thin, elastic skin is stretched.
Twenty one species occur across Jamaica and four of these are endemic, found here and nowhere else in the world. Of the 21 species, 15 depend on caves for daytime roosting and breeding nurseries. The qualities that make a cave "good" for bats are not well-known on Jamaica. Indeed, of more than 1200 caves and small chambers mapped throughout the island, less than 20% are occupied by bats.
Located on the northern edge of the rugged karst limestone Cockpit Country, Windsor Great Cave has long been recognized for its extraordinary bat diversity. At least 8 species, representing 3 foraging guilds are resident:
Parnell's Moustached Bat Pteronotus parnellii, Leaf-chinned Bat Mormoops blainvillii, Big-ear Bat Macrotus waterhousii, & Free-tailed Bat Tadarida brasiliensis ­ feed mostly on insects
Jamaican Fruit Bat Artibeus jamaicensis ­ feeds on fruits & seeds
Long-tongued bats Glossophaga soricina & Monophyllus redmani, & Brown Flower Bat Erophylla sezekorni ­ feed on pollen, nectar, fruits & insects
Two additional species of Moustached Bats, Pteronotus f. fuliginosus and Pteronotus macleayi griseus, were considered 'common' up to the early 1970s but neither has been seen in over 25 years. The causes of their decline and disappearance remain a mystery.
The number of bats in Windsor Great Cave is estimated 50,000-100,000. The bats roost in two large chambers, with segregation maintained by species.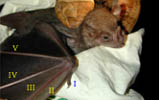 Jamaican Fruit Bat
Artibeus jamaicensis
Note the thumb & long fingers

In addition to their intrinsic value as unique animals, bats serve key functions in maintaining healthy ecosystems:
POLLINATORS: Bats pollinate numerous plants, including economically important crops such as banana, mango, and avocado ('pear')
SEED DISPERSERS: In the tropics, bats are responsible for 70-95% of all seeds dispersed, thus ensuring forest regeneration
INSECT CONSUMPTION: Insectivorous bats eat enormous quantities of insects, including those that are harmful to crops and pests to humans. For example, a 13-gram Parnell's Moustached Bat could easily consume > 1000 insects, including mosquitoes, per night. If 50,000 individuals are present in Windsor Great Cave, that's at least 18,250,000,000 insects per year!
A WORLD OF DARKNESS?
Contrary to common myth, bats are not blind. Many species, notably frugivores and nectarivores, rely on vision (and olfaction) for locating food. Have you noticed that many flowers which open at night are white?
Bats, however, are most well-known for their ability to echolocate. This involves sonar --emitting brief, usually ultrasonic sounds through the mouth or nose and receiving the echo to "see" with sound. Some tropical bats have overcome the problem of distinguishing insects from raindrops by using Doppler Shift (changes in frequency as the bat moves relative to its target; for humans, the sound of a train whistle changing pitch as it speeds past) to measure flight speed and wing motion of insects.