For the introduction to this page and to Catadupa's frogs in general, click here.
CATADUPA FROG DISTRIBUTIONS
Checklist nomenclature follows Blair Hedges' CaribHerp website.
Thanks also to Dr. Hedges for confirming the identification of Osteopilus marianae.
Island distribution maps are from Schwartz and Henderson (1991).
Click on "Catadupa Occurrence" maps to view larger image of each species' distribution and "Calling Vigor Index" created from acoustic monitoring surveys.
To see the locations of historic 1960s surveys and current survey locations, click on the map to enlarge.
COMMON NAME
SCIENTIFIC NAME
ISLAND DISTRIBUTION
2014
CATADUPA OCCURRENCE
(click on map to view larger)
COMMENTS
Bufonidae
Cane Toad
Rhinella marina
Islandwide
This introduced invasive alien was present in the KBA but not systematically suveyed
Hylidae
Jamaican Snoring Treefrog
Osteopilus crucialis
Throughout the KBA; common in forest
Jamaican Laughing Treefrog
Osteopilus ocellatus
formerly O. brunneus
Throughout the KBA;
very common in forest
Jamaican Yellow Treefrog
Osteopilus marianae
Detected almost only in the high rainfall, more mature forest of Central Catadupa
Jamaican Green Treefrog
Osteopilus wilderi
Throughout the KBA;
fairly common in forest
Eleutherodactylidae
Jamaican Rock Eleuth
Eleutherodactylus cundalli
Most common in the central, high rainfall region of the KBA; noticeably not detected in the south
Jamaican Earspot Frog
Eleutherodactylus fuscus
Throughout the KBA;
commonly detected in the forest
Jamaican Forest Frog
Eleutherodactylus gossei
Throughout the KBA;
most robust calling in the slightly drier south
Jamaican Pallid Frog
Eleutherodactylus grabhami
Throughout the KBA based on capture for chytrid sampling;
not detected acoustically
Cockpit Frog
Eleutherodactylus griphus
Not detected acoustically but was reported as present during chytrid sampling; species identity not definitively confirmed.
Re-survey required
Jamaican Bromeliad Frog
Eleutherodactylus jamaicensis
SPECIES NOT DETECTED ACOUSTICALLY NOR DURING CHYTRID SAMPLING: Alert raised for chytrid risk. Click for more info.
Lesser Antillean Frog
Eleutherodactylus johnstonei
This introduced invasive alien was present but not systematically suveyed
Jamaican Masked Frog
Eleutherodactylus luteolus
Throughout the KBA but
not commonly detected acoustically
Jamaican Yellow-bellied Frog
Eleutherodactylus pantoni
Throughout the KBA,
very common
Cuban Flathead Frog
Eleutherodactylus planirostris
This introduced invasive alien was present but not systematically suveyed
Calling Vigor Indices* - All Confirmed Species
NOTE: The detection distance of each species is highly variable, ranging from > 100 m for Osteopilus crucialis to mere meters for Eleutherodactylus luteolus. This map should NOT be viewed as the relative abundance amongst species, but rather to compare the geographic patterns of EACH species and to highlight the numbers of species along the North-Central-South gradient.
*Circles represent CVI scores from acoustic recordings; rectangle is for species which was not detected acoustically, but was handled for chytrid testing.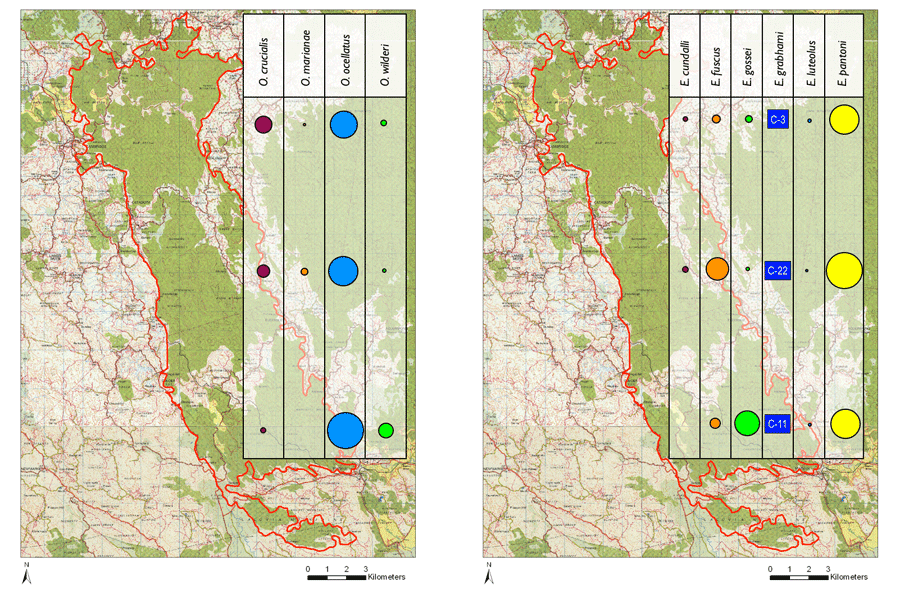 ---
Acknowledgements:
Funding for Catadupa frog surveys and creation of distribution maps was provided by:
---
References
Crombie, R.I. 1986. Another new forest-dwelling frog (Leptodactylidae: Eleutherodactylus) from the Cockpit Country of Jamaica. Transactions of the San Diego Society of Natural History 21: 145-153.

Hedges, S. B. 1987. Vocalization and habitat preference of the Jamaican treefrog, Hyla marianae (Anura, Hylidae). Carib. J. Sci. 23:380-384. http://www.hedgeslab.org/pubs/10.pdf

Hedges, S. B. 1999. Caribherp: Amphibians and reptiles of Caribbean Islands.www.caribherp.org on-line database. Date accessed: 1st December 2015.

Schwartz, A. and D.C. Fowler. 1973. The Anura of Jamaica: A Progress Report. Study of the Fauna of Curacao and Other Caribbean Islands: No. 142, pp 50-142. http://www.repository.naturalis.nl/document/549921

Schwartz, A. and R. W. Henderson. 1991. Amphibians and reptiles of the West Indies: Descriptions, distributions, and natural history. University of Florida Press, Gainesville, Florida.

Ward, C. 2014. Industry threatening to eliminate endemic Jamaican frogs. FrogLog (Issue no. 109) vol. 22: 48-49.