SPRING VALE

I am indebted to Brett Ashmeade Hawkins for the following paragraph: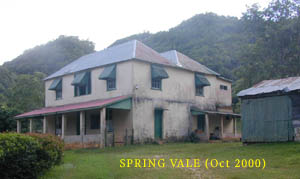 "In the late 18th Century Spring Vale (in St James) was owned by William Atherton (1742-1803), who also owned Green Park Estate in Trelawny. Spring Vale was a "Grazing Penn", raising oxen and mules for use on Green Park Estate which was then a sugar plantation. The slaves at Green Park had their provision grounds at Spring Vale and the "Great House" at Spring Vale was originally used by William Atherton as his summer residence, to escape the heat of the plains below.
The Spring Vale Great House, with its cooler mountain climate and fewer mosquitoes, was later used as a "change-of-air house" for the Planting Attorney, Overseer, Bookeepers and other British managerial staff at Green Park Estate, where they could be sent to recover from Malaria and other Tropical Fevers contracted in the humid lowlands below.
In 1824 Spring Vale Estate was listed in the Jamaica Almancks as having 186 Slaves and 571 Head of Cattle and the plantation was then over 1,972 acres in size. In the following year, 1825, William Peat Litt, who was Planting Attorney for the absentee Heirs of Edward Atherton, actually became a partner in Spring Vale Estate and remained so until about 1842. Spring Vale Estate then continued in the sole possession of the Heirs of Edward Atherton until about 1910 when both Green Park and Spring Vale Estates were finally sold by the Atherton family."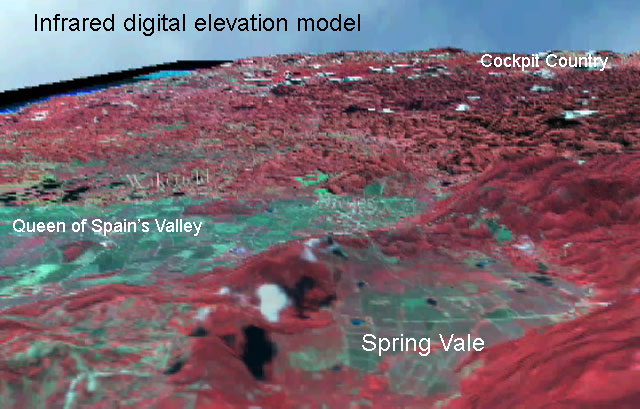 The Estate was later owned by Dr McFarlane:- the following is a note I received from Ian G. McFarlane (London, England).

"It was purchased jointly (I think in 1948) by my father, Dr. A.L. McFarlane (for many years the senior Government surgeon and later Director of Medical Services in Jamaica, who for many years also was the Custos of Kingston and, later, acted as Deputy Governor General), and my grandfather (George McFarlane, farmer, of Spring Garden near Reading in St. James). In the early 1950s my father bought out my grandfather's share. At about the same time, he purchased the adjacent Castle Wemyss property, thereby increasing his holding to about 3,000 acres. As I am sure you know, a small part of Spring Vale (about 60-100 acres) is actually in Trelawny.

My father eventually sold it to Tony Hart because my brothers and I were all living abroad and had no interest in returning to Jamaica to manage the property. As far as I can recall, that was in 1988 or 1989 (3 or 4 years before he died). Although he was not professionally an agriculturist, farming was his second love and very much his passion. Initially he grew sugar cane and farmed beef cattle on the property, which was really isolated. Up to the time he sold it, there was no electricity or telephone communication. By selective breeding, he produced the first poled Brahman cattle in the world by crossing Mysore and Nelore cattle with Red Pole cattle and also became an Assessor of thoroughbred cattle for the Jamaica Livestock Association. In the 1950s and 1960s the cattle suffered from liver fluke due to transmission of the disease by snails living in the ponds, which at the time provided the only source of water in the pastures (the great house was supplied from a rain water tank). It was my father who installed running water throughout the property by means of a ram in the Martha Brae river which pumped the water to a reservoir high on the hill above. I guess you know that the Martha Brae rises on the property and then disappears underground before reappearing some distance away in Trelawny. By using this water to supply drinking troughs in all of the pastures (and fencing off the ponds), he eliminated the liver fluke problem, and I presume this also supplies the irrigation system mentioned in the above article.

As we lived in Kingston, my father employed an Attorney (latterly our cousin Mr. Gerald McFarlane, a dairy farmer and well-known polo player, of Montego Bay) and a resident Overseer to look after the property. However, he visited it at least once a month - often spending several days at a time there. Indeed, I have many memories of staying in the great house. Although the conditions were sparse, as boys, my brothers and I viewed these visits as great adventures and we followed my father all over the property during his inspections of the cattle and cane fields. We were staying there in 1953 when a hurricane struck the island and we found ourselves completely cut off from the outside world for three days due to fallen trees on the Maroon Town road and flooding of the Marha Brae on one side and the Cungoso ("Come Go So") river on the other road leading out of the valley via Castle Wemyss. In our teenage years, however, being dragged to Spring Vale became somewhat less attractive - given its isolation and our waning interest in sharing our father's passion for farming.

From records I have seen, coffee was the major crop in the mid 18th century and I recall my father showing me occasional coffee trees still growing in the bush. I was delighted to see a picture of the great house in the article. I have a similar picture, and one of the derelict outside kitchen and storehouse, hanging on the wall of my study. I understand that the ground floor was built by slave labour in the mid 18th century. It has stone walls about 2 feet thick and the flooring (which I distinctly remember) was of 18 inch wide planks of solid mahogany. The upper floor was a later addition (I believe in the early-mid 19th century) of "Spanish wall" construction - but also with mahogany floor boards. The Castle Wemyss great house was also solidly built of stone and, I recall, was quite attractive - but I never went inside because it was used as the home for the Overseer of the combined properties until my father extended the Spring Vale great house in the 1970s to provide accommodation for him in a more central position in the property.

Throughout his tenure of the property, my father constantly experimented. One of his ventures was the establishment of a Lychee plantation - although I have no knowledge whether this still exists. He also established plantations of mahoe and mahogany and stocked the ponds with African Perch (Tilapia), for which we used to fish. In the 1960s, he leased part of Castle Wemyss to an American company to grow so-called "Miracle Fruit" (the botanical name of which I have forgotten) which showed great promise of providing a non-calorific sweetner as an alternative to sugar, saccharine and cyclamates. Unfortunately, this venture (in which he had no financial interest other than the rent he received for use of the land) collapsed when the manufacturers of cyclamates won an injunction against the Miracle Fruit company in the U.S. courts.

Spring Vale is presently planted in bananas and is owned by Mr Hart who also is a part-owner of Good Hope.
The estate seems notable for the high investment in irrigation.

(NB I have a note to myself that "In 1840 the Jamaica Almanac reports that it consisted of 39 acres belonged to Anne Campbell". I need to check this out.)

The road beyond the house leads to Flagstaff and Maroon Town and is in poor condition (4WD and/or high ground clearance recommended). It is also fairly deserted and you probably won't find a mechanic or spares. Yes, I have had to walk home from half way up the hill -twice-!

We value your feedback and comments: