STEWART CASTLE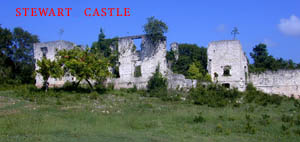 Stewart Castle was an impressive cut-stone mansion designed like a fortress and built by James Stewart, whose son, also James, was Custos of Trelawny from 1812 and who was instrumental in the establishment of Stewart Town, in Trelawny. The family is thought to have left Jamaica in the middle of the 19th century and the mansion is now almost completely ruined. It belongs to the National Trust and is, I believe, available for divestment.
The Jamaica Almanac of 1840 lists this estate with 1918 acres and the owner as heirs of Robert Shedden.
The land around is a land settlement. You can continue past the ruins down a footpath to a secluded fishermans' beach. West of the fishermans beach is the now-disused Salt Works with its evaporating ponds but this is accessed from the Coral Springs development.
We value your feedback and comments: