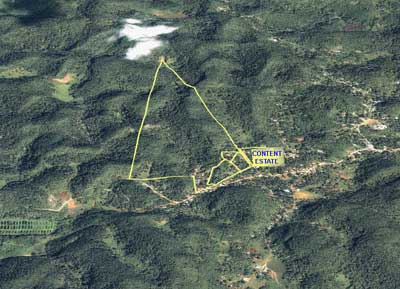 Based on IKONOS image supplied courtesy of GeoEye/Forestry Dept
Content Pen extends northwards from Coxheath, near the Waldensia Baptist Church.
From the map (courtesy of the National Library of Jamaica), you can see that, at 58 acres, it was quite a small estate. According to John Fowler (who is connected with Grange, Lottery and Friendship):
"Penn (or pen) had two meanings in late 18th/early 19th century Jamaica, either a livestock farm, or a gentleman's country house/estate, primarily a residence but with some "farming" - cattle and small stock, some fruits, vegetables etc., for the use of the owner's household, (which, including "servants", could easily be 20-30 people), pasture for his horses, more than a hobby farm, but not intended to produce for market. ".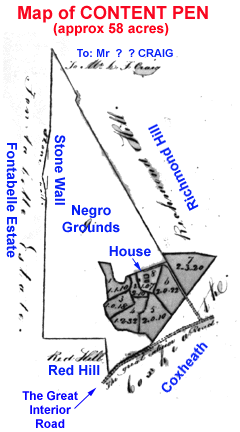 Original map courtesy National Library of Jamaica