PATRICK'S HOUSE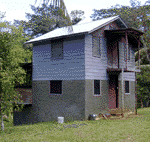 Patrick's house is an attractive "upstairs house" which is managed by Franklin aka "Dango". The upper floor consists of a single bedroom with a screened verandah (Mosquitoes are bad here, too! Bring mosquito coils!). The ground floor is presently used for storage. Foam mattresses are provided but bring your own sleeping bag. Cooking is done over a camp fire and drinking water comes from a nearby spring. Though there is a rainwater catchment system, the house is on 3 1/2 acres of land which straddles the Martha Brae river, so that river bathing is the norm. There is an outside pit latrine.
Dango can also provide a tent to sleep up to four additional persons.
Prices start at US$20 for the bedroom (1 or 2 persons) and $10 for each additional person.
See location 5 on map of Windsor We value your feedback and comments: